Course Outlines and Syllabi
Course Outlines and Syllabi

Course Outlines

A one-page course outline is required by university policy for every course offered by the Faculty of Health Sciences. Instructors will receive an email reminder through TRACS to upload their course outlines. Outlines must be available to students at least two weeks prior to the start of the registration period or two months before the semester begins (March, July and November). Note that the one-page outline is different than the syllabus. See below for syllabus information.

Instructors upload their course outlines online. Please follow these instructions:

1.    Log in to outlines.sfu.ca.2.    Select semester, course and section.  Click the round icon.3.    Input data to the fields.  (This can be done by free-format typing or cutting & pasting)4.    Save.5.    Scroll back up to the top of the page to confirm that the outline was saved successfully. (See green box)6.    Once the outline is finalized, click "Continue", go to the next page, and click "Submit".7.    The system will automatically advise the program assistant that the outline is ready to be activated.

Before your outline is activated online, the program assistant will review to ensure that all required fields are complete. 

If you have taught the course before, you may want to use the previous outline as a starting point and make any desired changes. The course content should correspond to the SFU Calendar description. If it does not conform closely, you must apply for approval before any changes can be published. Contact the appropriate program assistant, depending on whether you are teaching an undergraduate or graduate course, if you have not taught a course before and would like a copy of a previous course outline for your reference, or if you would like to apply for approval to upload content that does not closely conform to the SFU Calendar description.

Refer to this link to search for the archived course outlines: http://www.sfu.ca/outlines.html. The system has archived outlines starting from Fall 2015 onwards.

Course Syllabi and Syllabus Policies

Refer to the Policies and Procedures Related to Syllabi Review, Development and Distribution (this link requires your ID to login) for more guidance about drafting a syllabi and to locate a syllabi template.

All HSCI courses at both the graduate and undergraduate levels must have a detailed syllabus that delineates course objectives and means of exam. Attached to this policy is a template to help you design of a syllabus so that it outlines the appropriate level of detail in terms of content, objectives, and exam tools. The recommended text in regards to grading distributions, student conduct, and other policies are also provided.

All new and substantively updated/revised courses must be reviewed as indicated below. Syllabi submitted for review do not need to be in the final draft.  The GSC and UGSC are generally concerned with the review of the following:  1) the statement of learning objectives; 2) an outline of topics; and 3) a list of required readings/texts.

You will receive an email from the TRACS system to upload your syllabus, in accordance with the following schedule:

Deadlines

Fall Semester

(September – December)

Spring Semester

(January – April)

Summer Intersession

(May – June)

Summer Semester

(May – August)

New, revised courses, new instructors

August 15

December 15

April 1

April 15

Ongoing courses not requiring review

First day of semester

First day of semester

First day of semester

First day of semester

For new or substantially revised courses, feedback will be provided to instructors three weeks prior to the start of the term. Notably for graduate courses, where accreditation requirements demand that courses meet certain core competency requirements, it is expected that faculty will comply with requests for revision.

The course syllabus represents a contract between the instructor and student. It is important that it clearly outlines expectations, grading and attendance policies, and appropriate student conduct guidelines to all students enrolled in the course.

 A syllabus does not need to be provided in hard copy and can be distributed through Canvas or through other online formats. The scheduling of subjects may be changed after the start of a term, but once the syllabus has been circulated to students, it is strongly advised not to make further changes to: a) grading policies; b) policies regarding student conduct and academic honesty; or c) the timing of key exams.

For more resources and guidelines, refer to the links below:

FHS course planning and syllabus checklist

Sample course syllabus

Syllabus template



This week in enterprise: Gen AI hype, cybersecurity leaders and laggards, and Cisco offers hope for tech spending
Is the inevitable backlash against generative artificial intelligence at hand? Some early signals suggest the possibility, but you'd never know it from all the fundings and new products streaming out this week, as SiliconANGLE documented in a raft of stories this week.

We also covered the better-than-expected quarterly earnings from Cisco Systems Inc., which gave investors hope that a tech spending lull might be easing. Meantime, though, some cybersecurity companies are struggling as generative AI could be siphoning off information technology investments. Crypto isn't dead yet despite the ongoing wintry conditions. And Intel Corp. dropped its bid for Tower Semiconductor after China's regulators essentially nixed it — another in a string of bad news for the struggling chipmaking giant — even as Arm Ltd.'s IPO moves ahead.

For an insightful and entertaining take on this and other news in enterprise and emerging tech, check out this week's theCUBE Pod, John Furrier's and Dave Vellante's weekly podcast. And this weekend, look for Vellante's Breaking Analysis, his weekly deep dive on an enterprise tech trend.

I'll kick things off this week with a look at the current state of the cybersecurity industry through the lens of one of its top leaders, Palo Alto Networks Inc., which announced earnings today.

As cybersecurity hits a slower patch, Palo Alto Networks charts plan to stay ahead

Palo Alto held a highly unusual presentation on its earnings and a review of its strategy today — unusual in that Friday announcements are usually reserved for bad news. Not so today, since in Palo Alto's case, the news was plenty good. (As Chief Executive Nikesh Arora apologetically explained on the call, which was kicked off with a remix of Rebecca Black's 2011 earworm "Friday," he wanted to leave time to talk one-on-one with analysts over the weekend before a planned company sales meeting that starts Sunday, on top of a board meeting this week.)

Anyway, the company reported its fiscal fourth-quarter profit before certain costs such as stock compensation jumped 90% from a year ago, to $482.5 million, or $1.44 a share. Net profit hit $227.7 million, or 64 cents a share. Revenue rose 26%, to $2 billion.

The outlook was positive as well. For its fiscal first quarter, the company expects adjusted earnings of $1.15 to $1.17 a share, up 40% at the midpoint, on a 16% to 18% rise in revenue, to as much as $1.85 billion. For the full year, the revenue forecast is a tick higher, between 18% and 19%, with adjusted earnings up 19% to 22%.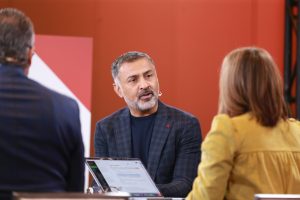 Investors liked the results. Palo Alto's shares were rising more than 8% in after-hours trading. Shares were already up 80% on the year through the start of August.

"The report is better than feared," Ivana Delevska, founder and chief investment officer of investment adviser Spear Invest, told me. "Guidance is light, but given the timing of the report many investors were expecting something much worse like an accounting restatement, or management change."

Arora touted the "changing environment" that drove more customers toward "platformization," meaning customers that buy multiple product lines. To that end, Arora said the company was surprised by the strength of its extended security intelligence and automation management, or XSIAM, product, with bookings of more than $200 million in its first year.

XSIAM, in its Cortex line, combines endpoint detection and response or EDR, security orchestration automation and response or SOAR, attack surface management or ASM, and security information and event management or SIEM technologies into a single solution. Many other companies offer these separately, which can be a pain point for customers that often must juggle many different cybersecurity products from different companies.

Despite the positive results, it's no easy sledding these days, given high interest rates that are tamping down spending. "There is more scrutiny" on deals, Arora said. "There are some that get stretched or get canceled."

During a 90-minute presentation, Arora dug into the evolution of what he says is a $213 billion cybersecurity market. There are new segments such as SASE, cloud security and internet of things security that contribute $29 billion, transforming segments such as endpoint and XDR as well as SIEM and network security at a collective $72 billion, steady segments such as identity, app security, data and email security at a total of $31 billion, and $81 billion in services.

"We were told customers don't want platforms, they wanted best-of-breed solutions," Arora noted. Instead, he said, Palo Alto is aiming to do both, through what the company calls a "build and buy" strategy, to become the largest pure-play cybersecurity provider. Cisco and Microsoft are larger, but of course cyber is just part of their businesses.

The upshot of all this is that Palo Alto looks to continue as a consolidator in this industry, along with a few others such as CrowdStrike Holdings Inc., Check Point Software Inc. and Cisco Systems Inc. The industry does seem to be splitting between larger companies continuing to grow and roll up smaller companies and others struggling to maintain traction either because of aging technology or because IT departments are diverting more spending toward AI. Just in the past week or so, Rapid7 and Secureworks laid off workers. And Arora noted that there are 3,000 cyber startups out there — clearly unsustainable.

"We believe M&A will pick up significantly in the second half and 2024 and companies like Palo Alto that have the capital availability are in a solid position to benefit," Delevska said. "We see 'shift left' as a major theme for M&A, that is, cybersecurity embedded earlier in the software development cycle."

She also thinks there will be only a limited number of industry consolidators, in particular Palo Alto and CrowdStrike. "M&A has been hit-and-miss in cybersecurity and therefore track record is key," she said.

Going forward, Arora sees a need for, and shift to, more real-time and autonomous security. "We will see a standard platform for security," he vowed. "That's the only way we're going to get to the future we need for real-time and AI-based security."

More cyber news below.

Around the AI universe

A well-known AI skeptic raises doubts about generative AI that are worth practicing even if the essential critique is, as often with Gary Marcus, points to inflated expectations more than a complete lack of utility: What if Generative AI turned out to be a Dud? Also, Benedict Evans is unimpressed so far, though it's a bit mystifying he can't find any good use for it. Plus, gen AI has landed right at the top of Gartner's Hype Cycle and you know what that means.

Some observers even think the AI startup Gold Rush is ending: A.I. startups are losing their bloom for seed investors, argues one VC

But that seems slightly early, many startups keep on coming: Former Google researchers launch startup to build nature-inspired neural networks and Elemental Cognition, led by IBM Watson's former head, raises $60M

It's getting competitive on the gen AI infrastructure front: Continuing AI investment is why the GPU battle, for one, keeps intensifying — and the software matters as much as the hardware, which is why Modular could raise so much money: AI software startup Modular seeks bumper Series A round to challenge Nvidia. Of course, the big guys such as Amazon are already well into this chips-and-software race: How Amazon is racing to catch Microsoft and Google in generative A.I. with custom AWS chips. Meantime, per the New York Times, the GPU shortage rages on.

And then there's the endlessly fundraising Databricks: Databricks looking to raise 'hundreds of millions' in fresh funding to fuel generative AI push But Furrier notes in theCUBE Pod podcast that it's not out of need for cash but striking while the AI iron is hot.

For better or — in the case of the Iowa school board that wants to ban books they can't be bothered to read — for worse, harnessing chatbots for content moderation: OpenAI finds GPT-4 can Boost online platforms' content moderation efforts

Even the big large language model creators are looking to provide industry-specific AI models: Anthropic raises $100M from SK Telecom to build AI for telecommunications Do they become AI superclouds? And in the same vein: Arthur launches open-source tool to help companies make data-driven decisions about LLMs

About the worry over those LLM data leaks — someone's working on that: DynamoFL raises $15.1M to tackle language model data leaks

"Hey Google, what should I do?" Google DeepMind reportedly developing at least 21 new generative AI features Not scary at all, nope.

And the hardware suppliers see an opportunity to bundle things to make AI development easier, though it's not clear how big a market there is for this kind of thing outside the big cloud providers: Nutanix offers quick-start approach to AI development

OpenAI makes its first acquisition: OpenAI acquires digital products company Global Illumination for undisclosed price

Amazon finds some low-hanging gen AI fruit: Amazon adds AI-powered review summaries to its e-commerce marketplace

More cyber ups and downs

Cybersecurity companies still cutting costs perhaps as AI steals some budget: Cybersecurity provider Secureworks to let go 15% of its workforce, on the heels of Rapid7 layoffs last week.

David Strom warns of a deadline for EU privacy regulations next week: Doing business in Europe? Time to focus on its new Digital Services Act – now

Strom looks at the latest CPU attacks and concludes they will be tough to fix quickly: Mitigating the latest processor attacks will be a chore on many levels

Same deal with phishing: New reports show phishing is on the rise — and getting more sophisticated

And another security issue in IoT (maybe take the stairs next time): New widespread IoT compromise could affect millions of logic controllers

Finally, here's detailed advice on how to avoid security fatigue: How to prevent multifactor authentication fatigue attacks

Tech economy pulse

Cisco earnings beat estimates and its stock rises a bit after-hours. At first a seemingly weak forecast from the industry bellwether raised doubts about tech infrastructure spending, but subsequent company comments and analysis indicate a good quarter and equally good outlook after all: In a positive sign for tech spending, Cisco's stock rises on strong earnings and prospects for AI

More China economic war fallout: Intel scraps its $5.4B acquisition of Tower Semiconductor Vellante and Furrier think Intel's in deep trouble, as they describe on theCUBE Pod. Tower wasn't a game-changer in itself, but it's hard to see how CEO Pat Gelsinger can revive Intel's fortunes anytime soon.

Arm's IPO to get rolling next month: SoftBank reportedly buys back 25% Arm stake from its Vision Fund unit

Crypto ain't dead yet: Despite crypto downturn, BitGo raises $100M at $1.75B valuation and ZetaChain raises $27M. Plus Coinbase secures approval to offer crypto futures to US customers. And Crypto hardware wallet maker Ledger teams up with PayPal

Random bits

That was quick: SUSE to be taken private by its majority shareholder

Eliminating the decryption tax for querying encrypted data: MongoDB unveils data encryption tech for developers to boosting data privacy and compliance

Supercomputers in the cloud: Harvard researchers clone supercomputer on Google Cloud

Sassine Ghazi to become CEO of chip design software firm Synopsys

What's coming

VMware Explore runs Aug. 21-24, and SiliconANGLE and theCUBE will be covering it in Las Vegas.

Earnings from Zoom, Nvidia, Snowflake, NetApp, Splunk, Autodesk and Workday

Then the following week, Aug. 29-31, is Google Cloud Next, also to be covered onsite at Moscone Center in San Francisco by SiliconANGLE and theCUBE.

Image: Bing Image Creator; photo: SiliconANGLE Your vote of support is important to us and it helps us keep the content FREE. One-click below supports our mission to provide free, deep and relevant content.   Join our community on YouTube Join the community that includes more than 15,000 #CubeAlumni experts, including Amazon.com CEO Andy Jassy, Dell Technologies founder and CEO Michael Dell, Intel CEO Pat Gelsinger and many more luminaries and experts.

"TheCUBE is an important partner to the industry. You guys really are a part of our events and we really appreciate you coming and I know people appreciate the content you create as well" – Andy Jassy

THANK YOU